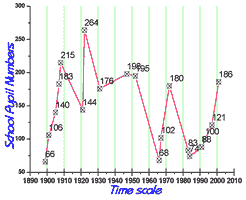 Graph showing pupil numbers over 110 years.
On 1st January 1992, Mr. David Tilling began work as the schools' new Headteacher. At this point, there were 4 classes in the school: Class 1 (Years 5 and 6), Class 2 (Years 3 and 4), Class 3 (Years 1 and 2) and Class 4 (Year 1 and Reception). Over the following 5 years, the school continued to grow. 114 pupils in 1995 and 121 by 1997. Reorganization was necessary. The bottom playground was finished around Easter 1998 and by November 1998, the school canteen had been converted into a new Reception classroom making 5 classes. On 3rd July 1999 the school celebrated its 100th birthday with an elaborate centenary summer fair followed later in the year with a Victorian day when the children and staff lived and dressed as Victorians for the day.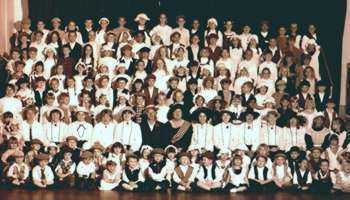 Celebrating the Centenary by dressing up in Victorian clothes.
In September 1999, the 6th class was created from the old library. April 2000 saw the opening of the new classroom extension for the Reception year and one month later saw the opening of the ICT suite. The final class was created in September 2000 by partitioning the Year 2 class and allowing Year 6 to share the space. We said goodbye to Mr. Tilling in December 2000 and Mrs. Mitchell started on the following January. 2002 saw a new classroom for Y6 and newly decorated ICT suite. This was officially opened in October and it meant each year now had it's own classroom. Mrs Mitchell was replaced by Mrs Haines who left in 2011 to be replaced by Mr Snell in the September of that year. Pupil numbers have since increased to over 180 once again. The ICT suite is no more with laptops and ipads used throughout the school. In September 2022, the school opened a new nursery on the site having previously been operated by Bumbles Daycare.
Extracts reproduced with kind thanks to Mr. Norman Voake